My Time at MCM Comic Con 2019 in London
This past month (May 24-26) I attended the MCM Comic Con in London at the Excel Arena. I attend a comic-con every year – usually the London Film and Comic Con in July – but this was my first visit to the MCM. My favorite part was just seeing all the passionate fans dressed in their favorite character's costume. For some, it's a way of life and I applaud their dedication.
I myself have never dressed up, although I always wear a themed t-shirt (this year it was a Charlie Kelly one from It's Always Sunny in Philadelphia).
If you are wondering whether or not to head out to your first comic con, here are my thoughts on the experience, beginning with 4 tips for first-timers.
1. Be prepared to walk…a lot!

I clocked up 10,000+ steps at the MCM, which is equivalent to about 4.5 miles. I was also carrying so many bags that I resembled a pack horse – needless to say, by the end of the day, I was pooped. My tip would be to take it slow and steady, you don't want to burn out before you reach the Pusheen section.
2. As a cosplayer, prepare for countless posing for photographs
If you are planning on cosplaying as your favorite character then ready yourself for all types of people asking to either take your picture or have a picture taken with you. I hope you're not camera shy because you'll be the star of hundreds of Facebook profile pictures. Also, hydrate! You'll get super hot and sweaty wearing your costume all day.
3. Take a packed lunch and water/other beverage
I can't speak for all comic-cons around the globe, but generally, they are busy and crammed with people. Around lunchtime, everyone will be queuing at the limited number of food outlets. I myself was queuing for nearly 20 minutes for a small, meager burrito that wasn't worth the money I paid for it. This tip will save you time and money…win-win!
As a Briton, it is ingrained in me to be so good at queuing that if it were an Olympic sport I would inevitably bring home the gold medal – but that doesn't mean that I like doing it. To meet any of the special guests (David Harbour, Sebastian Stan, and Stephen Amell were there this year) you have to queue up; to participate in any of the special photo ops you have to queue up…in short, all the best things to do are reached through an orderly queue.
My MCM Comic-Con Experience
With stalls as far as the eye could see, each one was adorned with different collectibles, from Mr. Stay Puft to Crash Bandicoot. It was a bit overwhelming at first, but once I was there, I got straight into the zone.
We entered and were met immediately by Chewie (my second favorite cosplay of the day) growling as only he can. After photos were taken and pleasantries exchanged, we delved into the heart of what we had come to see.
The gamers were first, with endless rows of VR gaming experiences and groups of people battling on Crash Team Racing. Queues had already formed for every VR game (Five Nights of Freddy and Doctor Who: Edge of Time were the most popular) so we moved onto the beginning of the stalls. On the way, more fantastic cosplayers caught my eye.
The first stall was super nostalgic and I had to have some real self-control not to go broke here. I looked over the ancient consoles and harked back to a time when I would while away the hours playing them. Nintendo (Gameboys NES and SNES); Sega (Megadrives and Saturns); Playstation (One and Two specifically), they were all there.
The next stall was a dream come true: wall to wall Funko Pops. What I didn't know was that this was one of around a dozen stalls that specialised in Funko Pops. I browsed meticulously for at least 10 minutes and decided to move on; nothing caught my eye on this occasion.
It wasn't long until I found a stall where I could easily part with my money, and soon, we were stall-hoping and bank-account-draining our way around the convention. A little while later we came across the Funko exclusives shop, housing limited edition Funko Pops only available at the MCM Comic Con. As we found out with all of the most popular "things-to-do" that day, the lines were crazy long!
The closest we managed to get
People Watching at MCM Comic Con London
We soon split up (unintentionally) and I found myself wandering around the biggest Comic Con in the UK aimlessly just soaking up the sights and sounds of geek culture. I slipped into a section dedicated to all things Asian; from Cute Tofu and Pokemon to Manga and stalls filled with Pocky, there was everything a fan of the far east could ever want.
Although my heart wanted to stay there all day, my tired body was screaming for mercy, and as I was waiting for my friend to finish up browsing one last time, I sat down and watched the cosplayers go by me. Cosplay – a portmanteau of "costume and play" and meaning to, in essence, dress up – is the most popular and beloved pastime of all comic cons.
Characters from all walks of life; Doctors, Marty McFlys, Wolverines, Black Widows, Wonder Women; Freddie Mercurys…I could literally go on all day listing off the cavalcade of cosplayers that passed me by as I sat there waiting.
I was thankful for that bit of peaceful viewing – like watching all of my favorite shows and movies at once – at the end of a long and tiring day.
Would I go again? Absolutely! Although it's busy and tiring and devastating for my wallet, I would not hesitate to go again (which is what I'm going to do for October's). I believe comic-cons are a Mecca for all geeks, collectors, and cosplayers, and if you haven't been to one yet, I hope my experience will give you that push to go.
What I Bought at MCM Comic Con London
While I was there, I managed to get a few things, and here are 3 that I highly recommend:
These were my favorite purchases, but not my only ones, as my poor bank balance will show.
Here are some of the other photographs I took while I was there.
So that was my experience at the MCM Comic Con; it was a fantastic one!
Although it is a long and tiring day, a hazard to your bank balance, and so busy that you kind of find yourself agreeing with Dwight from The Office, I would not hesitate to rush back there.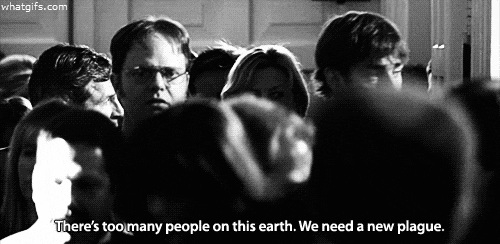 Even if you don't buy anything (yeah right, who are you kidding?!), just go for the day and be part of a unique group of people that all share the same interests and passion, and whose passion manifests in the most creative and beautiful of ways.
Comic-Con is a right of passage…go! GO NOW!
Let me know in the comments if you are planning to or have already been to a Comic-Con this year. I would love to hear from you.
Andreea, our lead editor, attended a different comic con that same weekend, the East European Comic Con in Bucharest. She talks about the cosplays she loved here.
From Skywalkers to superheroes; from a Gunslinger to Gollum; From a time travelling police box to a time travelling delorean, my obsession with everything fantastical and geeky began when I was around 6, aboard the USS Enterprise, with Captain Jean-Luc Picard at the helm.
Now, being 6 seems like a lifetime ago, and a lot has changed in my life but my love for all things geeky remains a constant.
Win a Geeky Subscription Box
Subscribe to get a chance to win a geeky subscription box.
Harry Potter has some of the most memorable quotes in any fandom. Here are 55 remarkable Harry Potter quotes from your favorite characters!
It doesn't have to be Halloween for us to geek out, brainstorm some Harry Potter costume ideas, and have a HP-themed extravaganza. From brave Gryffindors to cunning Slytherins, memorable professors, and even more memorable pets, there are a ton of Harry Potter costumes you can try.
When you think about superheroes, you usually imagine almighty folk, am I right? Well, here are 10 superheroes without powers who might make you reconsider that notion.
The critics, the viewers (and we) have spoken! These are the worst horror movies of the past 10 years based on their Rotten Tomatoes and IMDB scores and our viewing of them.
Missing the Harry Potter series? Check out these amazing Harry Potter companion books and behind the scenes guides!
Consuming endless hours of television is kind of a staple of nowadays' media culture. The binge watching guide below is the result of my extensive research on the history and psychology of binge watching. Read more to learn about its dangers and how you can turn this phenomenon into a positive experience!